PPWR: A closer look at the EU Packaging Regulation
Finland's packaging laws hold companies responsible for their packaging's life cycle through Extended Producer Responsibility (EPR). Companies introducing packaging to the Finnish market must now collect, dispose of, and recycle it at the end of its life cycle.
The aim of Finland's packaging EPR is to reduce packaging waste and encourage higher recycled content in packaging. Starting in 2024, new packaging regulations will take effect in Finland and businesses should start preparing accordingly.
This blog post provides insights into the latest developments in EPR packaging regulations in Finland. We'll outline essential aspects of the packaging EPR regulations and how Deutsche Recycling GmbH can assist your compliance.
Short on time? Check out the "For Quick Readers" section or read on below.
From 2024 onwards, all companies placing packaging on the market in Finland are obliged to take back, dispose of and recycle it. This EPR in Finland applies – regardless of the company and its turnover, size and other factors – to all distributors of packaging. The ELY Centre Pirkanmaa (Centre for Economic Development, Transport and Environment) monitors compliance with the EPR in Finland. Annual reporting by companies must also be made to this authority. To reduce bureaucracy and still comply with the packaging rules in Finland, companies can entrust a full-service environmental compliance provider like us at Deutsche Recycling with this task.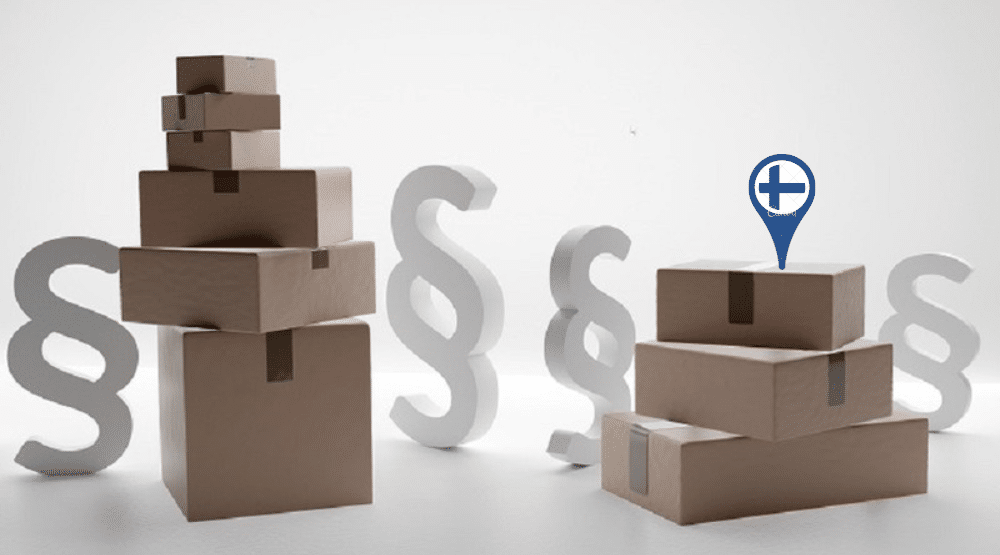 EPR Packaging: Obligatory for All Companies in Finland from 2024
Until December 31, 2023, Finnish packaging laws required companies with an annual global turnover of one million or more to manage the return, disposal, and recycling of their packaging if they introduced it to the Finnish market. However, as of January 1, 2024, this sales limit will no longer apply in Finland.
From that date, all companies in Finland meeting the following criteria must adhere to the packaging EPR regulations:
Finnish packaging companies or importers (with a Finnish VAT ID and registered office in Finland)
Foreign operators packaging products for the Finnish market or importing packaged products (with a fixed location in Finland and registration as a branch in the commercial register)
Foreign entrepreneurs with branches outside Finland selling packaged products online to Finnish end customers
After the removal of the sales limit in 2024, even small and medium-sized enterprises (SMEs) will fall under Finland's EPR requirements. These companies must either register with a relevant collective scheme like Rinki Ltd. or establish an individual system, ensuring compliance with all packaging EPR regulations.
EPR Compliance in Finland: Obligations without a Collective Scheme Registration
Companies not part of a collective scheme like Rinki Ltd. must establish their own system for collecting, disposing of, and recycling packaging in Finland. These companies need to submit annual reports to authorities detailing nationwide packaging waste collection and recycling efforts, along with other communication obligations.
Annual reports to Finnish authorities should include information on the amount of packaging introduced into circulation. Based on these figures, authorities determine the EPR requirements that companies must fulfill in Finland. While not participating in a collective system may save costs, it also involves more significant bureaucratic responsibilities.
Meeting Packaging EPR Requirements with a collective scheme in Finland
Most companies meet Finnish Packaging EPR obligations by registering with a collective scheme like Rinki Ltd. Registration includes one-time fees, annual customer fees, and recycling fees, which are calculated based on the previous year's packaging volume and reported to Rinki Ltd.
Rinki Ltd. accepts both B2C and B2B packaging at various collection points, accessible via public transport. These collection points facilitate convenient packaging drop-offs, and municipalities can also utilize Rinki Ltd.'s collection network.
Professional Guidance and Support for Packaging EPR in Finland
Complying with the packaging EPR in Finland presents complex challenges, requiring knowledge of Finnish law to fulfill all requirements accurately. At Deutsche Recycling GmbH, we assist companies across Europe and worldwide with environmental compliance in various areas, including EPR for packaging.
Contact us if you have questions or concerns about packaging EPR in Finland or other extended producer responsibilities in the country. Finland also enforces EPR regulations for electrical appliances and batteries.